‹ back
SCHEDA FILM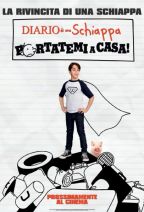 DIARIO DI UNA SCHIAPPA: PORTATEMI A CASA!
Titolo originale: Diary of a Wimpy Kid: The Long Haul
Regia: David Bowers
Cast: Alicia Silverstone, Jason Drucker, Charlie Wright
Durata: 91'
Genere: Commedia, Family
Nazione e Anno: USA, 2017
Distribuzione: 20th Century Fox
In Diario di una schiappa: portatemi a casa, il viaggio della famiglia Heffley per partecipare alla festa del 90esimo compleanno della bisnonna Meemaw si trasforma, ovviamente, in una esilarante esperienza quando Greg decide di cambiare piano e andare a una convention dedicati ai videogiochi. Il viaggio della famiglia si trasformerà così in un' avventura che gli Heffley non scorderanno mai.
CINECITY MANTOVA È ANCHE APP!